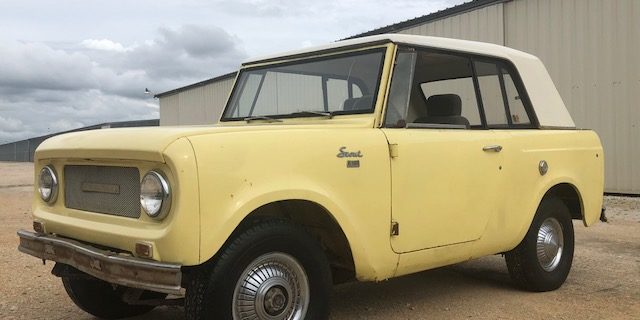 In 1966 and 67 International offered a special "Sport Top" Scout.  They were offered with either a special Slant back fiberglass top, or a cloth retractable top which is ultra rare.
They also had split rear chrome bumpers and champagne colored interiors.   It was a deluxe Scout choice in those years!   These today are very hard to come by.  This is one of those Scouts.
This Sport Top Scout came from a south Texas ranch owner.   The original top and rare side glass comes with the truck,  but is currently in Baton Rouge LA.  Working to get it picked up!
Its still the factory pail yellow with some poor touch ups here and there.  The body is good to fair with rust through in the lower tailgate and some in the rear wheel wells.   The frame is solid but the underside has surface rust throughout.   The body mounts seems good!
The Scout was being flat towed with a tow bar when the transmission spun a bearing.   So the transmission will need replaced or rebuilt.   I have located a replacement transmission.  ($300) The carburetor was removed and not returned.   I think I have one to include,  its just a one barrel Holly.   The motor turns and surely is good.
This is a project for sure,   but very rare for the Scout collector.   Comes Bill of Sale only!   Or…I can file a Bonded Texas title for a flat rate $500.   This takes about 60 days before you get title,  but the Scout could be picked up sooner.    Please call Hawkeye for any questions 210-548-1310.   The Scout is located in San Antonio Texas.