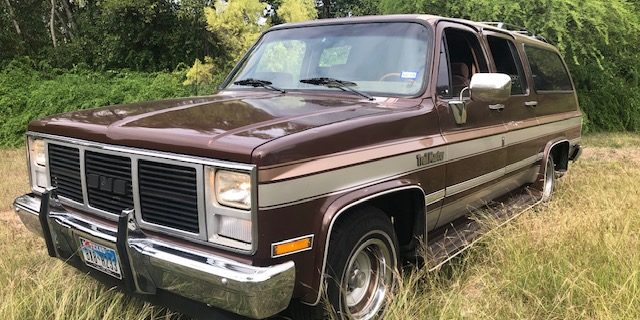 Here is one amazing classic Suburban.   This is an ultra rare 1988 GMC "Trail Master" edition suburban.   The truck was shipped to a company called Sunshine Industries where everything deluxe was added.   Final price in 1988…..over $28,000!!!   A lot of money for the time.
I have the original sales window sticker,  and Sunshine upgrade documents.   The truck only has 93,000 original miles.   It is in extremely nice condition.   The truck is ALL original.   It has a smooth running and super clean 350 V8 engine.   Working front and rear Air Conditioning,  power windows,  power steering and brakes,  tilt wood wheel,  front and rear bucket seats, and third row seat.   Its a 1500 series.  The dash has always been kept under cover so its mint!   All the lights and gauges work too.
The truck has a built in ice cooler in the center console and a full roof console with track lighting.   Cruise control etc.   The body is very nice with custom paint and ground effects kit.   You likely won't find another.
The truck is located in San Antonio Texas.   Thanks for the interests.